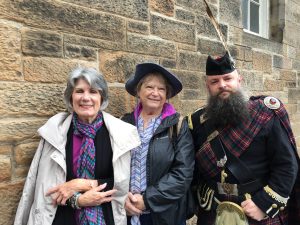 My partner in ancestry questing, Dr. Kathryn Gray-White; another friend, Susan Morris; and I journeyed to Scotland in early June in search of our heritage. I've come to think of them as "my dead people," all of those who came before me who live on in me right down to the marrow of my bones. According to ancestry.com I have plenty of Scottish heritage. This was my fifth trip to Scotland, but I'd never before known where specifically to look for the ghosts of my ancestors. This time, I knew. I couldn't wait to have the daylights scared right out of me by meeting a few spirits.
Now, our small traveling tribe wasn't silly enough to imagine that we would touch a standing stone and be transported back to eighteenth century Scotland (if you don't know what I'm talking about, watch the TV series Outlander), but we had hoped to see as much history as possible. Especially Kathryn, a history professor, who is always on a search for new material for her classes.
Well, we did indeed find places and people who not only taught us the facts but who made us feel the souls of our ancestors. Edinburgh Castle, with its charming St. Margaret's Chapel, started us off.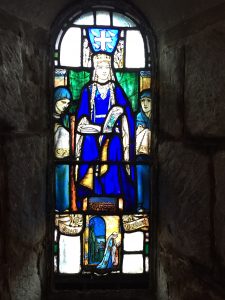 Stirling Castle took us back to the 12th century and the days of Mary, Queen of Scots. A highland excursion with a kilted gentlemen who drove us into the mountains and served us morning tea, complete with Scotch whiskey, in a doughie (rough shelter) taught us what it was like to survive in the wilds of the highlands. A tour of the Culloden Battlefield touched our hearts as we walked the ground upon which so many lost their lives in the Jacobite cause, fighting for Scotland's freedom.
We didn't happen to see any "coos," as they call their big, hairy cows, but we did see lots of photos of them and lots of real-life familiar-looking cattle, along with many fields full of sheep. Most farm fields are bordered by stone walls, just like in the photos we always see. The countryside is lush and green; the cities and villages are medieval and mysterious.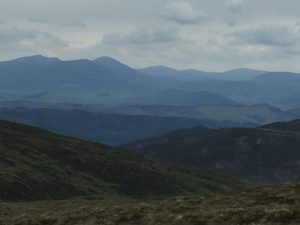 We visited Kenmore in the highlands, a lovely village on a peninsula that juts into Loch Tay, a beautiful, large lake. The setting is magical. Stepping into the 17th century church, which stands on the ground of a church where one of my ancestors was baptized in 1693, took my breath away.
St. Monans, a small, quaint fishing village on the Firth of Fourth, was home to one of Kathryn's ancestors. His family may have started out as fishermen, but she has learned that her direct ancestor turned to pirating. Gotta love those ancestors.
We visited St. Andrews, and took a tour of Rosslyn Chapel, the one of The DaVinci Code fame. There we discovered more about the secrets groups of men who, when the fight for Scotland's freedom failed, had clandestine underpinnings in forming our country, the United States of America.
There were lots of beef pies, fish and chips, beer, and, yes, more Scotch whiskey along the way. And we couldn't resist the shortbread "biscuits," cookies to us. Our ancestors may have had their fair share of those very same biscuits.
So, what does all of this mean to you? It doesn't matter if you have Scottish heritage. What matters is that you, too, seek out your heritage, whatever it may be. Search online, find family records, take road trips to old hometowns, search courthouse and university archives, and, best of all, talk to family elders while they are still here. And, if your budget allows, get on a plane visit old home sites. Pay attention to the facts, but more than that, pay attention to the feeling of being close to those old souls who made you.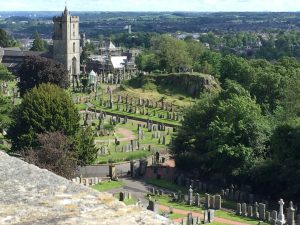 Going back in time to experience at least a bit of what it was like for those who made us, that makes us who we are today. It makes us feel connected to the past and more attuned to the present. It makes us have hope for the future, for those we leave behind when we no longer walk this earth. Just like our ancestors had hope for better futures for us, we can do the same for those who come after us.